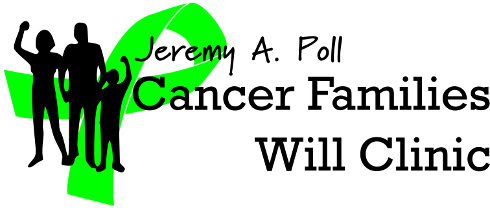 Poll Clinic Terms and Conditions
Your use of goodfaithlegal.com/poll-clinic and submission of the Poll Clinic Volunteer Application constitute your acknowledgment of the following terms and conditions:
The Jeremy A. Poll Cancer Families Will Clinic ("Poll Clinic") is a program operated by Good Faith Legal, P.S.  The Poll Clinic is not a separate legal entity, and does not offer 501(c) status for donated funds or services.  The Poll Clinic does not carry professional liability coverage for volunteer attorneys.  The Poll Clinic does not perform conflict checks for qualified clients assigned to volunteer attorneys.
Participating volunteer attorneys will be contacted via email when a Poll Clinic client is ready for assignment.  Volunteer attorneys should respond to confirm or decline acceptance within 48 hours.  Upon acceptance of a Poll Clinic client assignment, the volunteer attorney shall be the attorney of record for preparation of the estate plan, and shall manage the matter from introduction and intake through execution.  Volunteer attorneys may choose to use their own forms and templates or use any of the Poll Clinic forms and templates.  If the volunteer attorney and client determine that a living trust is desired as part of the estate plan, the volunteer attorney may elect to prepare the trust pro bono, or may charge for preparation of the trust at the then-current Poll Clinic Hourly Rate.  The Poll Clinic Hourly Rate is published at goodfaithlegal.com/poll-clinic.  All fees charged for preparation of a trust for Poll Clinic clients shall be billed and collected directly by the participating attorney or law firm.  A copy of all invoices for fees shall be forwarded to administrator@pollclinic.com.
Volunteer attorneys may choose to use their own office and staff for client meetings and for the execution of estate documents.  Alternatively, the Poll Clinic will provide a notary and/or witnesses upon request, either at the volunteer attorney's office or at the offices of Good Faith Legal, P.S.  Because our goal is to make this process as easy as possible for Poll Clinic clients, we strongly encourage our volunteer attorneys to make evening and weekend times available as needed.
If a client wants to have the will(s) filed in the will repository, the volunteer attorney shall provide that service to the client by 1) recording the documents and covering the expense pro bono; or 2) forwarding the final documents to the Poll Clinic for filing.
P.O. Box 691 | Maple Valley, WA 98038
p: (425) 906-9590 | f: (425) 484-0016